Grand Central Terminal Facts
Discover These Must-See Features When You Visit Grand Central Terminal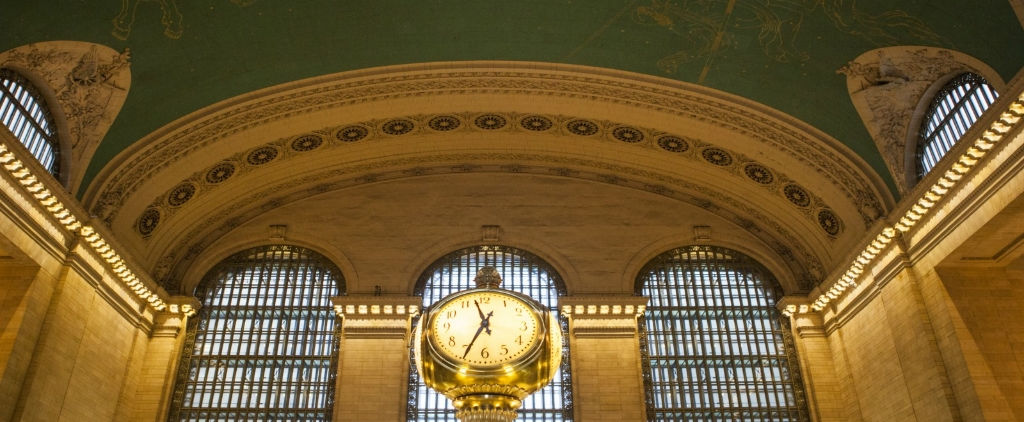 Grand Central Terminal receives hundreds of thousands of visitors every day, but there's far more to the world's largest train station than meets the eye. Just a few short blocks from The Westin New York Grand Central, you can explore the terminal like never before once you learn about some of its most unique traits.
As you're strolling through the station, keep an eye out for these iconic features:
Brass acorns — Representing the Vanderbilt family symbol, these distinctive acorns sit on top of the information booth clock, and on every other clock and light fixture in the station.
Oak leaf clusters — Another symbol of the Vanderbilt family, clusters of oak leaves are most commonly found adorning the terminal's track entrances.
The constellation mural — Likely by mistake, the starry ceiling wasn't painted astronomically correct. The constellations appear to be reversed – according to popular legend, around Paul Cesar Helleu may have been working from upside-down maps or showing a God's-eye view.
The dark patch on the ceiling — The entire ceiling was once covered with grime from tobacco. A small patch still remains at the end of gold line near the Cancer constellation.
The "secret" door in the information booth — Concealed by a brass cylinder in the center of the kiosk, a spiral staircase descends to the lower level information booth.
The Oyster Bar — This iconic restaurant opened the same year as the terminal in 1913, overcoming bankruptcy, a devastating fire and even the threat of demolition.
The whispering gallery — When two people stand at diagonal arches in the dining concourse near the Oyster Bar, they can hear each other's whispered messages.
Track 34 — Because it's one of the station's few platforms with no columns, track 34 has appeared in almost every film that featured a train departing from or arriving at Grand Central.
The secrets of Grand Central Terminal await your discovery just a 5-minute walk from our doors.
Recharge in Your Westin New York Grand Central Guest Room After a Day of Exploring
At the end of an exciting day at Grand Central Terminal, you'll look forward to returning to your spacious and serene guest rooms at The Westin New York Grand Central.
Delight in these comforting in-room features at The Westin New York Grand Central:
One-cup coffee makers with Starbucks® coffee
Westin Heavenly Bed® and Bath amenities, including slippers and velour bathrobes
New 42" high-definition IPTVs
24-hour dining service
Stylishly modern décor
Breathtaking city views
And more
To plan your trip to Grand Central Terminal, reserve your stay at The Westin New York Grand Central online or call 212-490-8900 today.